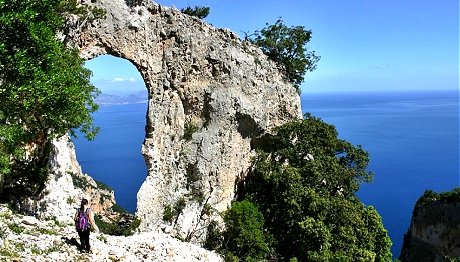 Trekking in Sardinia

Trekking is a kind of naturalistic tourism, which is within range of everybody, a very clever way of travelling and discovering every side of the island.

In Sardinia you can choose among long and intensive itineraries, excursion that can last a few hours or all a day. Or else beautiful and very easy route which are suitable even for beginners or those who are worried about the height. Unforgettable are the Promenade at Gulf of Orosei or the relaxing tours in the middle of Sardinia.


A little bit tough but also striking and picaresque are the Excursion to Gorropu Gorge or to The Supramonte of Baunei. If you love the culture, inserted in an amazing natural environment, you can choose the fantastic walking to Tiscali.

You can discover an unbeliveble island, made of sun and secrets; an earthly paradise that cross all Sardinia, from the North to the South, with the climbings on the rocks near to Sassari (North-West) or the relaxing walking in Gallura (North-East), or many places in Oristano and Barbagia and Ogliastra.

Search your adventure or your relax in the nature. On Ciaosardina you'll find whatever you are looking for: the path cross the exploration is tracked, you need just to walk on it!


Cala Luna Trekking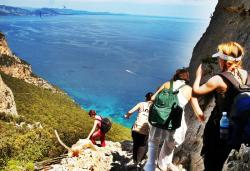 An alternative way to visit the beach of Cala Luna is to start from the locality called Buchi Arta, which is reached by four-wheel drive along a scenic route. Here you can admire the beautifully made huts of goatherders, still used today and surrounded by a rugged and unspoiled landscape.

From this point the beach can be reached by foot from Scala s'arga, a path made by charcoal burners a long time ago. You walk along a rocky valley called Codula di Ilune with continuous views of luxuriant vegetation. At the beach you will be given a snack of typical local products. You can decide how long to stay on the beach and the journey homeward will be in a rubber dinghy at a time fixed by you.

The cost of the excursion covers site ticket, snack of local products, and transport by four-wheel drive vehicle and rubber dinghy.


Cala Gonone


Cala Gonone is about 7 km far from Dorgali, surrounded by mountains and big calcareous cliffs that. This area is full of wonderful creeks and isolated beaches, easily to reach only by boat.

On the north there is the beach of Osalla, reachable by land and the suitable place for families thanks to the pinewood at its back. After Osalla there is the beach of Cartoe: its sand is surprisingly white and its waters blue and crystal-clear. On the south of Cala Gonone there is the small but beautiful Cala Fuili.


Gorropu Canyon Trekking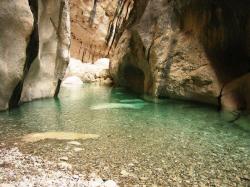 Gorropu is simply the deepest canyon in Europe (476 metres). People who love trekking cannot miss one of the most beautiful and unforgettable excursions in the island of nuraghi.

We leave from Dorgali and, while inside the gorge, the feeling of a unique and indivisible contact with nature will fill our soul, especially because the Gorropu canyon is in the widest uninhabited and wild area in Sardinia and Italy. Gorropu is an impressive gorge dug by the once mighty waters of Flumineddu river and it is a fascinating and surprising place.

In a million years deep furrow between the Oddeu and Cucuttos mountains, the excursion to Gorropu is characterized by uncontaminated nature, oleanders, luxuriant and perfumed evergreen oaks, strangely shaped rocks, caves, pools, karst dolines and a wide range of birdlife species.

Location: Eastern Sardinia
Difficulty: easy, medium
Ideal for: families with children, young people, people who love trekking.

FLORA

Oleander woods, evergreen oaks, willow trees, alders, maple trees, hollies and chestnut trees. The Gorropu columbine that grows only in the gorge, on the most inaccessible walls. We cannot forget the Corrasi currant (Ribes sardoum) and the Supramonte thorn-bush (Prunus prostrata).

FAUNA

Mammals: mouflon, marten, doormouse, wild cat, sardinian boar, Sardinian deer, fallow-deer, wild rabbit, weasel, brown hare, savi's pygmy shrew, hedgehog, Sardinian white-toothed shrew, European free-tailed bat, bet-winged bat, greater horseshoe bat, brown long-eared bat, Sardinian brown long-eared bat, Kuhl's pipistrelle, savi's pipistrelle bat, pipistrelle bat and other bat species.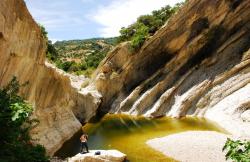 Amphibian: Sardinian cave salamander (autochthonous amphibian), Tyrrhenian painted frog, Sardinian mountain newt, Sardinian tree-frog.
Birds: golden eagle, , Bonelli eagle, Sardinian goshawk, vulture (griffon), barn owl, woodcock, calandra lark, owl, chough and many other species.
Reptiles: coluber, grass snake, Sardinian ocellated skink, Italian wall lizard, Bedriaga's wall lizard, Tyrrhenian wall lizard, Italian three-toed skink, viperine snake, Hermann's tortoise.


Climbing on Tavolara Island


Tavolara Island almost remembers the shape of a sleeping dinosaur. Its history is shrouded in many legends, and has always been a popular destination for tourists, especially for diving and snorkeling lovers.

The tour allows you to get in touch with its energy and the wonders: the limestone cliffs, which drop down into the cobalt blue sea, the forests of wild olive, maple and juniper, its rocks and beaches.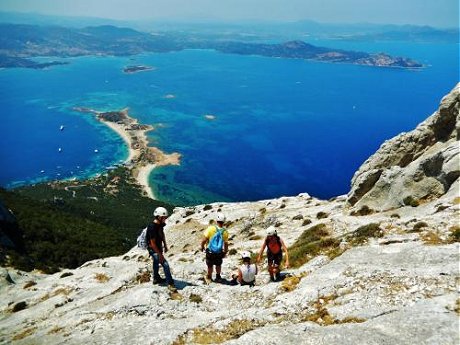 From the peak, Punta Cannone, 565 m.s.l.m. you can enjoy a breathtaking landscape, especially when the visibility allows you to see the island of Corsica, in the North.
The hike is quite challenging, although the difference in level is considered as "medium", and in the final part of the ascent there is a particular passage in close contact with the rock, where it is secured from above, with a fixed rope.
From Porto San Paolo there are ferries to Tavolara island.

Recommended equipment: long pants, hiking boots, backpack, water and camera.

Lunch: packed lunch. Alternatively, from May to October, on request, the restaurant of the island is open for tourists.

Thanks to its 565 m of height, Tavolara island overlooks the Golfo di Olbia. This small island has a so particular form that seems to change its aspects according to the different point from where you can see it.

The facts that two thirds parts of the island are forbidden to visitors and its peaks are reachable with difficult have allowed the conservation of some rare botanic species, like the Alyssum Tavolarae, some kinds of limonium, maples and elicrisum.

Their survival is connected to the particular ecosystem of the ridge of the mountain that is surrounded for several days per year by persistent cloudy formations due to the movement of the sea's humidity, caused by the Sirocco wind. In the valley at the foot of Punta Lucca, the legendary goats with the gold teeth live. The island is also very rich in birdlife: peregrine falcons, queen's falcons, Corsican gulls, cormorants and storm's birds. Visitors will also see some specimen of golden eagles and ravens.

Just euro 65 per person. Fee does not include:

Management fee per Person euro 5
Tipps and other extra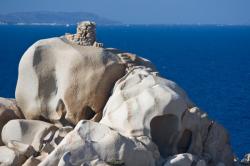 ARCHAEOLOGICAL ITINERARY - NURAGIC ARCHITECTURE

The historical heritage of Dorgali and the whole of Sardinia can be discovered through different archaeological itinerarie. Several themed itineraries can be combined in order to meet the demands of those who want to learn about Sardinian archaeology , whether they are experts or people who still don't know the most important sites of the island.

Countless possibilities to discover and to know better the archeology of Dorgalis territory and the whole Island.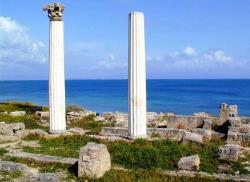 Departures from Dorgali/Cala Gonone for the following itineraries:

Nuraghic architects
Nuraghic village Serra Orrios (Dorgali), Tomba dei Giganti s'Ena 'e Thomes (Dorgali), National Archaeologic Museum in Nuoro, Nuraghic village Su Romanzesu (Bitti), Nuraghic well Su Tempiesu (Orune).

Dorgali (a combination of the following sites, full or half day excursions)
Nuraghe Mannu (Cala Gonone), Nuraghic village Serra Orrios (Dorgali), Tomba dei Giganti s'Ena 'e Thomes (Dorgali), Archaeological Museum (Dorgali), Ethnographic Museum "S'Abba frisca" (Dorgali).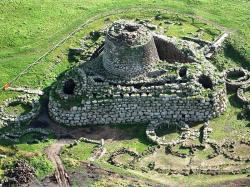 BACK TO MAIN PAGE
Parque de Los Alcornocales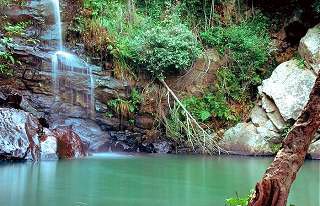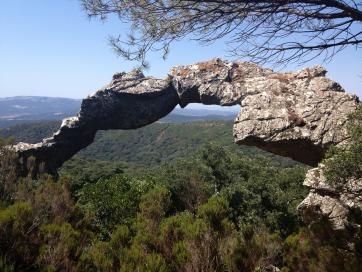 Sailing School
in Costa Smeralda